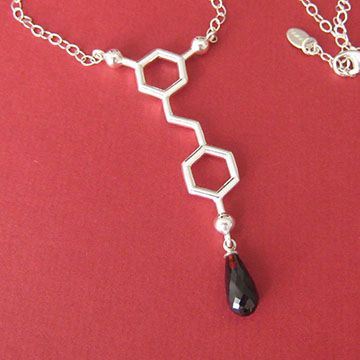 Resveratrol Necklace
You've heard that red wine is good for you. Resveratrol is a reason. Resveratrol is found in the skin of grapes, so it's present in red wine but not white wine. Its concentrations are particularly high in pinot noir grapes.
In mice, resveratrol has anti-cancer and anti-inflammatory properties. It lowers blood sugar and blood pressure. And it can even extend life. That none of this has quite been proven in people, yet, is no reason not to enjoy a glass of a nice, bold merlot.
The necklace has an elegant, festive feel. It is the perfect accessory for cocktail parties, wine tastings, or enology classes. The deep burgundy, hanging garnet looks like a drop of a fine red.
The sterling silver pendant is about 2.5 inches long, including a genuine garnet drop. It is attached to a sterling silver link chain that can be adjusted for length up to 18 inches. A snake chain is also available. It closes with a lobster clasp.
Each item is packaged in a gift box and includes an informational tag about resveratrol.

Reviews
Featured Products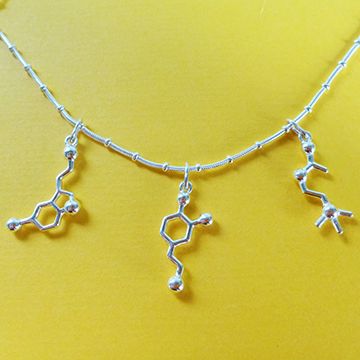 Creativity Necklace
$115.00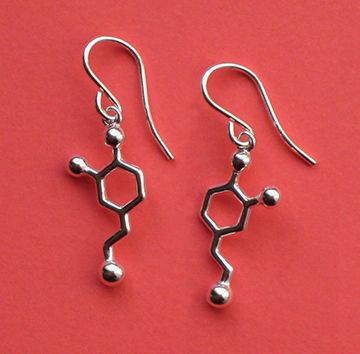 Dopamine Earrings
$50.00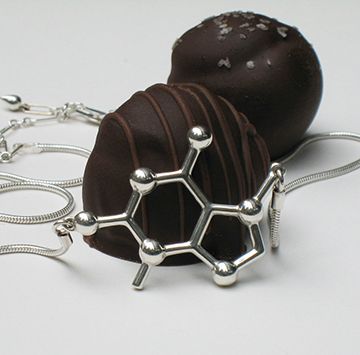 Theobromine Necklace
$90.00