EGCG Necklace
EGCG - Green Tea
People have cultivated Camellia sinensis tea for over 4,000 years. This long relationship is based on benefits tea brings people, benefits that have long been instinctively or empirically known but only recently understood through modern science.
Tea has many beneficial molecular constituents. The psychoactive molecules theanine and caffeine produce a state of relaxed awareness, prized by some mediators. Unlike coffee, tea rarely causes jitters, it can lend a tranquil mood.
Tea is not just enjoyable to drink, but also can reduce cholesterol, fight cancer, treat HIV, and reduce neurodegeneration.
In celebration of tea, this pendant is based on epigallocatechin gallate (EGCG), a particularly potent type of catechin, which are antioxidant molecules found in tea. EGCG is famous for its health properties, as both an anti-oxidant and an anti-inflammatory. Found most abundantly in white and green tea, EGCG may protect against many diseases.
EGCG is really an amazing molecule, and also gorgeous in silver.
The solid sterling silver pendant is about 1.5 inches wide. It comes on a solid sterling silver snake chain. The necklace is adjustable between about 16-18 inches. Each is packaged with a little info card about EGCG in a gift box.

Reviews
Featured Products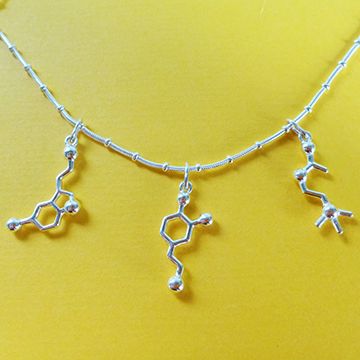 Creativity Necklace
$115.00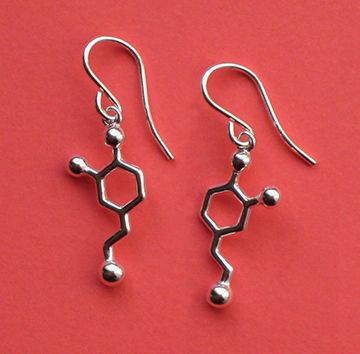 Dopamine Earrings
$50.00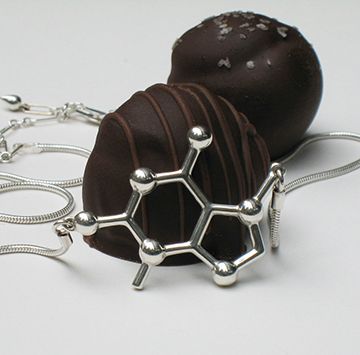 Theobromine Necklace
$90.00